Product Description
Small genset air cooled China brand 7kva diesel generator
Parameter:
Genset Model

EN Super Smart and Low Noise Diesel Genertor

Rated Power (kw)

8--20

Generator

Frequency (Hz)

50/60

Rated voltage

440V/254V , 400 / 230V, 380 / 220, 240 / 120

Power Factor

0.8/1

Noise level

66db ( 7 meters away)

Engine

Model

China Laidong (8kw—16kw)

China Yangdong

(20kw)

Cooling System

Closed Water Cooling

Starting method

Electric Start

Alternator

Brand

Brushless Alternator

Power factor

0.8/1

Phase)

3-phase, 4-wire

Connection:

Y or other type connection

Voltage regulation:

AVR

Rated speed:

1,500rpm / 1,800rpm

Protection class:

IP 22 or IP23

Excitation:

harmonic excitation or phase compound or brushless

1.0% voltage regulation (max.) in static conditions

Dimension

Overall dimensions (L×W×H)(mm)

1500*75* 75 (8kw—16kw)

1600*75* 75

(20kw)

Control panel:

The panel is provided with:
a) Standard engine instrumentation
b) Voltmeter with selector switch
c) Ammeter with selector switch
d) Frequency meter
e) Current transformers
f) Instrument fuses duly wired and ferruled
g) Mcb of suitable rating with overload and short circuit protection
h) With AMF control panel or with ATS (automatic transfer syste)

Standard Accessories :

1) Vibration absorber between engine ,alternator and base frame

2) 12V battery with battery cables and rack , battery charger

3) Standard radiator mounted on skid

4) Circuit breaker

5) Industry silencer with flanged flexible connection and piping

6) 12 hours fuel tank

7) Tool kit bag

8) English operation / maintenance manuals
Rated output: 8kw -20kW
1) Rated voltage: 440V/254V , 400 / 230V, 380 / 220, 240 / 120
2) Rated frequency: 50 / 60Hz
3) Power factor: 0.8/1.0
Noise level: 66dB(7 meter away)
Engine
1) Rated power: Chinese engine
2) Cooling method: closed water cooling
3) Starting method: electric start

Dimension
1500*75* 75 (8kw-16kw) 30 units/ 20' Container
1600*75* 75 (20kw) 20 units/ 20' Container
In stock Information :
( All for silent generator )
we have 20kva Chinese engine in stock 6pcs
20kva genset in stock 10pcs
40kva genset in stock 4 pcs
100kva Genset in stock 7 pcs
150kva genset in stock 2pcs
200kva genset in stock 2pcs
250kva Genset in stock 2 pcs
Our equipment :
Diesel engine :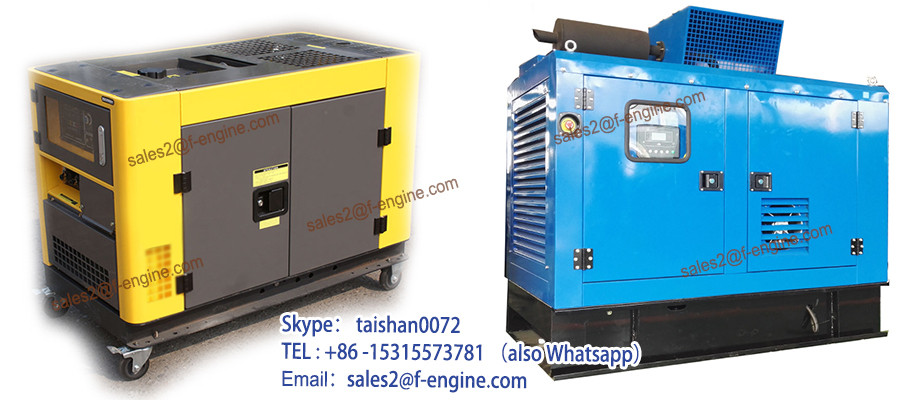 Quality control of E.N power Genset
1.The genset canopy can be designed by customers demand free of charge.
2.Noise level can be designed by customer demand, standard noise level is 70-73DB at 7m. Super silent is 60-65DB at7m.
3. Canopy color can be painted free of charge by customer demand. It is high quality paint.
4.All connection components and door lock are stainless steel.
5. We added oil filling inlet with lock
6. The oil box is separate madeand then welded to the base frame, not by simple welding on the base frame. It is to make sure there is no oil leakage
7. The base frame is with forklift mouthwhich is easy to load and discharge
8. For Logo, we can paint customer's logo when the order is more than 5sets.
9. For technical specification or question, we can support you by our strong technical team.
Packaging & Shipping
Our exported standard packing ( PLYWOOD CASES )

Our Services

Service Guarantee

Before Service: According to the clients' requirements and actual situation,we will furnish the technology consultation and kinds ofinformation.After Service: Guarantee for one year or 1000 running hours(accord to whichever come first)from Installed date.a: Within the warranty time ,if the genset like the alternator Part and other small components have any problem then my company will provided theservice to help you solve the problem within 24hours after the feedback from your side .The warranty can be do firstly through the email and Video byteaching you how to repair.b: If the spare parts need to be replacement then we will send the spare parts to you by DHL without delayc: The warranty can be done from your local experienced engineer and we pay the Bill for you if it is the quality problem .

The air-cooled diesel generator can have optional wheels and hand kits, Electric start or manual starting.Small-sized diesel generator sets includes open type and silent type.Our Small genset air cooled China brand 7kva diesel generator adopt different diesel engines and brushless generators.Generally adopt 1-cylinder&4-stroke&air-cooled engine, low fuel consumption, high reliability;It is easy to maintain as adopting brushless A.C.Generator and CDI ignition system.
JHSBJDHV
air-cooled diesel generator are quick-starting, stable-running, little vibration, low noise, light weight, small volume, compact structure, suitable for areas on mining, factory, working on field, engaging in construction and army as movable power or electric power in ship, Small genset air cooled China brand 7kva diesel generator also suitable for areas on animal husbandry, fishery, forest, orchard, guesthouse and business as standby power.
JSHFDKJ